Storytelling is Just That – Even for Businesses
Norbert J. Hobrath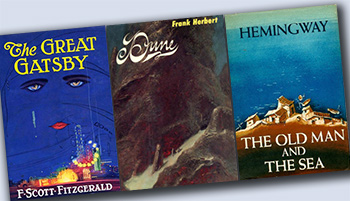 ISSUE 18
Does your company have a story to tell? Telling a story is another way to connect with your customers and prospects. No matter what your company does, or what it sells, you have an opportunity to tell your story. For many industrials companies with not-so-exciting products, you may have to "Hollywood" your story a bit. I don't mean fabricate and make up features and benefits for your products and services, I mean telling your story in an interesting way that captures the attention of your readers. This is the approach I take in building Content Marketing and PR programs for my clients.
But before we can tell your story, we have to create it. That's what the great storytellers do. They snag you right away. To elaborate on this, I am going to let some of the greatest classic writers show you how they did it, by presenting the first sentence from their wonderful novels. Some of these books are from my personal library. So consider these opening lines to inspire your creativity about how your company's products and services make life easier, better, more productive and more profitable for others.
Great First Sentences from Novels….

He was an old man who fished alone in a skiff in the Gulf Stream and he had gone eighty-four days now without taking a fish. - Ernest Hemingway, The Old Man and the Sea (1952)
It is a truth universally acknowledged, that a single man in possession of a good fortune, must be in want of a wife. - Jane Austen, Pride and Prejudice (1813)
The Reverend Mother looked at Jessica. "You've been training him in the Way—I've seen the signs of it. I'd have done the same in your shoes and devil take the Rules." - Frank Herbert, Dune (1965)
Many years later, as he faced the firing squad, Colonel Aureliano Buendía was to remember that distant afternoon when his father took him to discover ice. - Gabriel García Márquez, One Hundred Years of Solitude (1967)
Call me Ishmael. - Herman Melville, Moby-Dick (1851)
Happy families are all alike; every unhappy family is unhappy in its own way. - Leo Tolstoy, Anna Karenina (1877)
It was a bright cold day in April, and the clocks were striking thirteen. - George Orwell, 1984 (1949)
It was the best of times, it was the worst of times, it was the age of wisdom, it was the age of foolishness, it was the epoch of belief, it was the epoch of incredulity, it was the season of Light, it was the season of Darkness, it was the spring of hope, it was the winter of despair. - Charles Dickens, A Tale of Two Cities (1859)
I am an invisible man. - Ralph Ellison, Invisible Man (1952)
You don't know about me without you have read a book by the name of The Adventures of Tom Sawyer; but that ain't no matter. - Mark Twain, Adventures of Huckleberry Finn (1885)
If you really want to hear about it, the first thing you'll probably want to know is where I was born, and what my lousy childhood was like, and how my parents were occupied and all before they had me, and all that David Copperfield kind of crap, but I don't feel like going into it, if you want to know the truth. - J. D. Salinger, The Catcher in the Rye (1951)
This is the saddest story I have ever heard. - Ford Madox Ford, The Good Soldier (1915)
It was a wrong number that started it, the telephone ringing three times in the dead of night, and the voice on the other end asking for someone he was not. - Paul Auster, City of Glass (1985)
Somewhere in la Mancha, in a place whose name I do not care to remember, a gentleman lived not long ago, one of those who has a lance and ancient shield on a shelf and keeps a skinny nag and a greyhound for racing. - Miguel de Cervantes, Don Quixote (1605)
Every summer Lin Kong returned to Goose Village to divorce his wife, Shuyu. - Ha Jin, Waiting (1999)
Once an angry man dragged his father along the ground through his own orchard. "Stop!" cried the groaning old man at last, "Stop! I did not drag my father beyond this tree." - Gertrude Stein, The Making of Americans (1925)
All this happened, more or less. - Kurt Vonnegut, Slaughterhouse-Five (1969)
There was a boy called Eustace Clarence Scrubb, and he almost deserved it. - C. S. Lewis, The Voyage of the Dawn Treader (1952)
It was love at first sight. - Joseph Heller, Catch-22 (1961)
In my younger and more vulnerable years my father gave me some advice that I've been turning over in my mind ever since. - F. Scott Fitzgerald, The Great Gatsby (1925)
You better not never tell nobody but God. - Alice Walker, The Color Purple (1982)
He was an inch, perhaps two, under six feet, powerfully built, and he advanced straight at you with a slight stoop of the shoulders, head forward, and a fixed from-under stare which made you think of a charging bull. - Joseph Conrad, Lord Jim (1900)
If you would like to talk about getting your story told, send me an email and we can set up a meeting to talk more. You would be surprised at the wonderful news and stories we can develop on your behalf to get your customers and prospects excited.
---
Norbert Hobrath
believes in the power of content marketing, both in words and images, and the powerful combination of these two. For more than 30 years, he has developed interesting, informative and influential strategy and content for both industrial and service-based B2B clientele. He has also directed marketing and communications programs as Director of Marketing Communications for a worldwide manufacturing company, and as Communications Manager for the Fortune 500 American Greetings Corporation, and for a BASF chemicals company. He enjoys promoting corporate and product brands through effective storytelling. He is President & Chief Content Officer of Hobrath Group, LLC in Cleveland, Ohio.
www.hobrath.com