"Keep It Simple" Should Be Writing Theme for Us All
Norbert J. Hobrath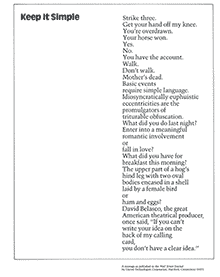 ISSUE 09
I saw a concert by Michael Stanley (of the famous Michael Stanley Band). He was just emerging as a local rock star in the Kent/Akron/Cleveland area in the mid-70s when I loved his music. Hearing him live again was a treat. He delivered the same passion in his music as almost 40 years ago. Why? I believe it is because he loves what he does.
"Keep It Simple" Should Be Writing Theme for Us All



KEEP IT SIMPLE


Strike three.

Get your hand off my knee.

You're overdrawn.

Your horse won.

Yes. No.

You have the account.

Walk. Don't walk.

Mother's dead.

Basic events require simple language.

Idiosyncratically euphuistic eccentricities are the promulgators of triturable obfuscation.

What did you do last night? Enter into a meaningful romantic involvement, or fall in love?

What did you have for breakfast this morning? The upper part of a hog's hind leg with two oval bodies encased in a shell laid by a female bird, or ham and eggs?

David Belasco, the great American theatrical producer, once said: "If you can't write your idea on the back of my calling card, you don't have a clear idea."




You can download the 'Keep It Simple' pdf
.
I hope this little reprise of a great past ad helps you think and write more clearly in all your communications. If you'd like to talk more on communicating better with your clients and prospects, send me an email. I'd like to talk to you. Really, I do.
---
Norbert Hobrath
believes in the power of content marketing, both in words and images, and the powerful combination of these two. For more than 30 years, he has developed interesting, informative and influential strategy and content for both industrial and service-based B2B clientele. He has also directed marketing and communications programs as Director of Marketing Communications for a worldwide manufacturing company, and as Communications Manager for the Fortune 500 American Greetings Corporation, and for a BASF chemicals company. He enjoys promoting corporate and product brands through effective storytelling. He is President & Chief Content Officer of Hobrath Group, LLC in Cleveland, Ohio.
www.hobrath.com