It's 'All in the Cards' for Major Product Launch
Norbert J. Hobrath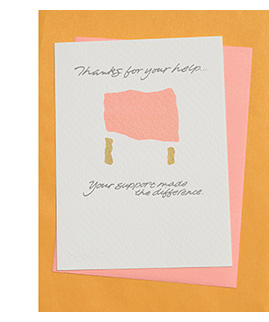 ISSUE 08
Ok. One more blog on special events, when I served as Manager of Public Relations at American Greetings Corporation, this time focusing on the single largest greeting card launch in the history of the company and how we promoted this.

It's Time for Something Really New
American Greeting worked with closely with David Viscott, M.D., a renowned psychiatrist, interpersonal communications expert and author, to write special verses for a new line of greeting cards focused on a range of personal feelings as never before.
The card line was called, "In Touch," which was a perfect name. Dr. Viscott focused on words that went beyond the major holiday occasions and instead looked at everyday situations that people needed to get in touch with and communicate. In Touch cards expressed intimate feelings and provided solutions for daily life situations, expressing differing kinds of feelings… love, happiness, anger, frustration, concern.
For example:

"We've both been hurt… I think we need to forgive each other."

or

"One of the nicest gifts I ever got… was you as a second mom."

or

"No matter what happens, we always have us."

You get the idea here. These were all very personal and direct. These cards were different from anything before. The American Greetings creative team went wild and produced 144 different card designs. A unique aspect to the cards was they were only one-sided. So as soon as you saw the card, you got the message. And the cards appealed to males and females, an added bonus.
The product launch was enormous. The company's customers (retailers such as major drug chains, grocery chains, and card shops) were excited to put the new line in all their stores. National television advertising and consumer print media supported the effort to reach the broad market of potential purchasers.
And the PR effort bolstered all this too.

Media Introduction

Working with a New York PR agency, we conducted a special event press conference to remember. American Greetings hired a large yacht to cruise up and down the East River in New York City. We invited key trade media to attend the press conference, in which our key corporate executives attended and mingled with the reporters after the card unveiling was completed. We had a captive audience there for several hours! We received much excellent trade press.
Soon thereafter, we took Dr. Viscott on a national media tour, lining up appearances on the New York morning television and radio shows, and also to the Cleveland market, and then out west to California for additional media exposure. This was followed up with a national PR campaign targeting consumer print media that lasted for months.

It was great fun. More importantly, these special events provided American Greetings and In Touch with a level of visibility never seen before in the industry.

It is just another example of how special events can add that extra layer of exposure as part of a full marketing campaign.

To learn how special events can help your content marketing and visibility,
send me an email
.
---
Norbert Hobrath
believes in the power of content marketing, both in words and images, and the powerful combination of these two. For more than 30 years, he has developed interesting, informative and influential strategy and content for both industrial and service-based B2B clientele. He has also directed marketing and communications programs as Director of Marketing Communications for a worldwide manufacturing company, and as Communications Manager for the Fortune 500 American Greetings Corporation, and for a BASF chemicals company. He enjoys promoting corporate and product brands through effective storytelling. He is President & Chief Content Officer of Hobrath Group, LLC in Cleveland, Ohio.
www.hobrath.com