Thinking Big Leads to Big Results
Norbert J. Hobrath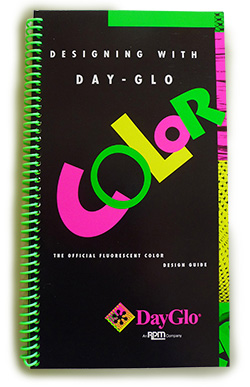 ISSUE 15
Now and then I write a case history on content marketing projects I've worked on where "thinking out of the box" or "thinking big" helped customers create a lot of buzz and interest for their products or events.

Thinking Big for DayGlo Fluorescent Color!

One of our clients in Cleveland, Ohio, DayGlo Color Corp., a division of RPM International, presented us with an interesting challenge. As most everyone knows, DayGlo colors are renowned worldwide. There is nothing quite like the color palette of these fluorescent hues, and DayGlo has been the world leader in this area for many years.
A high point for DayGlo colors was in the late 1960s and early 1970s when the world was going through some wild changes, and fluorescent yellow, orange, and green colors fit perfectly with this psychedelic period in history. But that color trend slowed considerably in the 1980s and 90s.
The challenge presented to me from DayGlo was to get people excited again about the colors by re-introducing these bright shades back into new products, new advertising programs, and make them trendy and "hip" again.
Had I been given a multi million-dollar budget, I could have proposed a wide array of options, including television advertising, lavish trade show displays, and more popular approaches. However, I was given a more modest budget but asked to come up with an innovative idea.
After consulting with my team, our thinking was to target 'where' the design decisions were made on color usage. That was the design community. If we could get designers involved in wanting to experiment and use DayGlo colors again in their approach over the next several years, we would see some amazing ideas leading to new applications and brand exposure.
Educate Designers
So we created a new and fun book called, Designing with DayGlo Color
to serve as The Official Fluorescent Color Design Guide. The publication was co-written by myself and three marketing executives at DayGlo, with content focused on helping designers and marketers better understand the potential for DayGlo colors. The book's design, with crisp and arresting graphics, was prepared by designer Helen Eichel.
Our approach was spot on. We presented ideas to help designers take their creations to another level showing how new color choices would enhance their products and marketing. And to get them excited!

The book was marketed through the trade press media, an extensive direct mail program, as promotions at trade events, and by the sales team in calling on the DayGlo customer base.
Interest and requests were strong for the design guide. The book was mostly printed in four colors —black, and three fluorescent inks, along with some four-color process pages to show designers the differences of traditional colors vs. DayGlo's unique shades. Color cards showing DayGlo inks were printed and included, as well as plastic color chips to present how the colors looked in different formulations.
The book was a hit, and even went through a second printing a few years later. Designers started seeing DayGlo in a new light. Soon a range of new products and packaging emerged showcasing the bright neon-colored DayGlo brands, which helped boost DayGlo sales.
This case study shows that with an innovative idea you can think out of the box to come up with some new approaches to market your products and services. And we would like to help you with that. Send me an email if you'd like to talk more.
---
Norbert Hobrath
believes in the power of content marketing, both in words and images, and the powerful combination of these two. For more than 30 years, he has developed interesting, informative and influential strategy and content for both industrial and service-based B2B clientele. He has also directed marketing and communications programs as Director of Marketing Communications for a worldwide manufacturing company, and as Communications Manager for the Fortune 500 American Greetings Corporation, and for a BASF chemicals company. He enjoys promoting corporate and product brands through effective storytelling. He is President & Chief Content Officer of Hobrath Group, LLC in Cleveland, Ohio.
www.hobrath.com